Searching for Ideas for the Perfect Honeymoon?
This is by no means a conclusive list of all the available possibilities for a perfect honeymoon. It would take an encyclopedia to cover all the potential places on the planet that are ideal destinations for any anyone persons perfect Honeymoon. One person's idea of paradise is someone else's  worst nightmare, it's one of the most difficult choices to make as a newly married couple and the only way to decide is to draw up a shortlist of ideas and maybe a little compromise.
For example, do you want a Beach or City? Think Bora Bora or Seychelles versus Paris or Venice
Relaxing or Exploring?  Maybe a Cruise or Spa Resort is more appealing for those looking to chill, but for the more energetic a Skiing or Safari vacation is the perfect option.
Whatever you choose as your ideal destination there are some things that shouldn't be overlooked and hopefully, this Checklist is perfectly compiled by The Knot and should help in ensuring a perfect Honeymoon.
Your Master Honeymoon Packing Checklist
Don't forget to pack these essentials for your post-wedding getaway.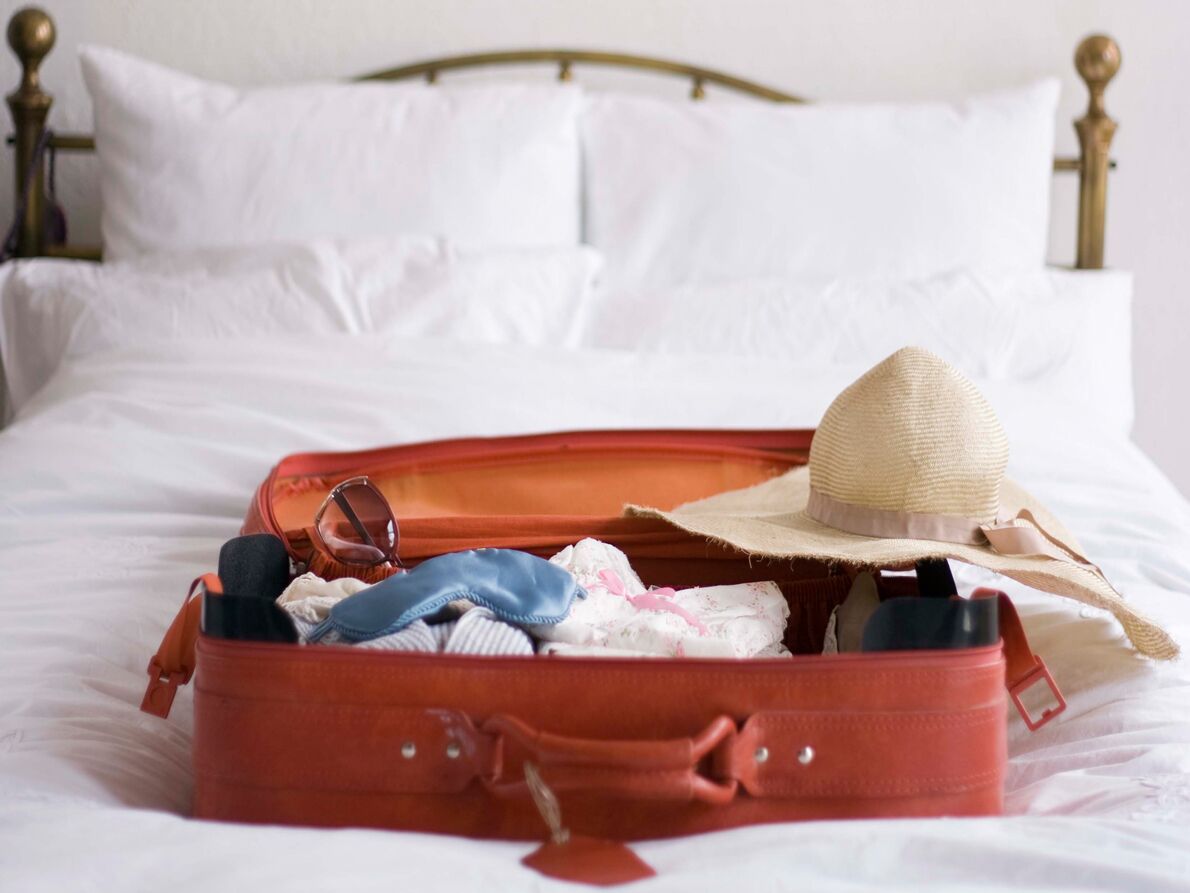 When it comes to packing for your honeymoon, it actually is possible to be over-prepared. Tote too much and an unwieldy bag will weigh you down. Take too little and you'll end up regretting leaving something behind or buying what you didn't bring. The solution? Our bare-bones honeymoon packing checklist will keep you covered for emergencies and help you sail through your honeymoon with ease.
Airline tickets (printed or on your phone) or e-ticket confirmations
Passport, visas, driver's license
Credit cards (take only those you'll need)
Any reservation confirmations (like hotels, restaurants and events) not available electronically
Two sets of photocopies of all of the above, plus a photocopy of related medical and/or trip insurance coverage and prescriptions (carry one set with you, leave one in the hotel room)
Phone numbers for your doctor, house or pet sitter and credit card companies (in case your cards are lost or stolen)
Prescription medicine (in the original bottle)
Birth control and condoms
ID tags for luggage (inside and out)
Camera (if you plan to bring one other than your phone)
Her Stash for a Week (Tweak for Destination, Activities and Season)
1 pair jeans, pants or leggings (for cold airports and the plane)
1 light jacket or pullover (take one that can be tied around the waist or stuffed in a backpack)
1 nice sundress
1 little black dress
1 cardigan (for chilly restaurants)
4 casual shirts (T-shirts or tank tops)
2 pairs shorts
2 swimsuits (bikini for the beach, one-piece for water sports)
1 swimsuit cover-up
1 pair sneakers
1 pair walking shoes or sandals
1 pair evening shoes or sandals
1 evening purse or clutch
Extra socks and underwear
Bras (strapless and otherwise)
Accessories (scarves, hats and jewelry to add variety to a limited wardrobe)
His Stash for a Week (Tweak for Destination, Activities and Season)
1 pair jeans or khakis
1 pair nice slacks
1 light jacket or pullover (take one that can be tied around the waist or stuffed in a backpack)
4 casual shirts (T-shirts or tanks)
2 pairs shorts
2 polo or button-down short-sleeve shirts
1 sports jacket (for nicer restaurants)
1 swimsuit
1 pair sneakers
1 pair walking shoes or sandals
1 pair lace-ups
Extra socks and underwear
Pack Here—Don't Buy There
Insect repellent (and anti-itch cream for the bugs that break through)
Sunscreen and lip balm
Sunglasses
Sun hat or baseball cap
Aloe vera
Band-Aids
Aspirin
Antacid
Antihistamine
Motion sickness medicine
Tampons and/or pads (they can be hard to find outside the US and are a non-negotiable must-have when you need them)
Paperback books (you can leave them in the hotel library once you've finished them)
Deck of cards
Canvas tote bag for beach or pool (also good for carrying souvenirs home)
Guidebook
Electrical converter and/or adapter
Bathroom Basics
Travel-size toothpaste
Toothbrush
Deodorant
Cosmetics
Makeup remover
Cotton balls and swabs
Comb and/or brush
Hair gel or spray
Nail file and/or clippers
Shaving cream
Razors
Contact lenses, re-wetting solution and storage case
Hair accessories
Optional Items (Your Hotel May Provide)
Shampoo and conditioner
Body lotion
Hair dryer
Shower cap
Alarm clock
Handy Extras
Extra pair of glasses and/or contacts
Asthma inhaler
Ziplock bags (all sizes; use for packing wet swimsuits or protecting camera and film when it rains)
Earplugs
Sewing kit
Tide pen
Antibacterial liquid or lotion
Eye drops
Small backpack(s) for day excursions or impromptu activities
1 pair old sneakers you're willing to get wet or ruined
1 pair workout sneakers and 2–3 workout outfits if you plan on visiting the resort's gym or jogging on the beach
Swiss Army knife
Compact umbrella or other rain gear
Leave Behind With Family or Friends
Your itinerary and hotel phone numbers
Photocopies of your passport and credit cards
A sealed copy of your wills, life insurance policy numbers and pertinent financial info